Cinema program "The Change-Up" in Gliwice
No showtimes for movie "The Change-Up" for today
Choose other date from the calendar above.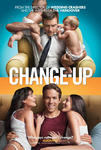 Original title:
The Change-Up
Runtime:
112 min.
Production:
USA , 2011
Category:
comedy
Release Date:
25 November 2011
Distribution:
UIP
Directed by:
David Dobkin
Cast:
Ryan Reynolds
,
Jason Bateman
,
Olivia Wilde
Mitch (Reynolds) i Dave (Bateman) razem dorastali, są przyjaciółmi od zawsze, jednak w miarę upływu lat powoli zaczynają się od siebie oddalać. Podczas gdy Dave to przepracowany prawnik, mąż i ojciec trójki dzieci, Mitch pozostał wiecznym chłopcem, który nigdy nie spotkał tej właściwej kobiety. Dla Mitcha, życie Dave'a jest idealne: ma piękną żonę, dzieci, które go uwielbiają i dobrze płatną pracę w prestiżowej kancelarii. Dla Dave'a, to właśnie życie Mitcha, bez stresu, zobowiązań i konsekwencji byłoby spełnieniem marzeń. Pewnego ranka, po wspólnym wypadzie do baru i morzu alkoholu, życie Mitcha i Dave'a zmienia się o 180 stopni. Budzą się w nie swoich ciałach i próbują jakoś dać sobie z tym radę.
Mimo uwolnienia się od codziennych obowiązków i przyzwyczajeń, przyjaciele wkrótce odkrywają, że życie każdego z nich nie jest takie różowe, jak to sobie wyobrażali. Sprawy dodatkowo komplikują: seksowna współpracownica Dave'a Sabrina oraz skłócony z synem ojciec Mitcha. Zmagając się z czasem, Mitch i Dave walczą o to, aby nie zniszczyć sobie nawzajem życia i znaleźć sposób, aby odzyskać stare.
Movie trailer: The Change-Up