Cinema program "The gift" in Gliwice
No showtimes for movie "The gift" for today
Choose other date from the calendar above.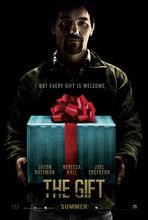 Original title:
The gift
Runtime:
108 min.
Production:
USA , 2015
Category:
mystery
/
thriller
Release Date:
7 August 2015
Distribution:
Monolith
Directed by:
Joel Edgerton
Cast:
Joel Edgerton
,
Rebecca Hall
,
Jason Bateman
A young married couple - Simon and Robyn - buying the dream house to him start a new life. The future is in beautiful colors, especially that in a few months the world has come to their dream child. Met accidentally former colleague Simon becomes a new friend's house. It's nice to have someone I know in the new area. Someone who is so nice that sometimes sends small gifts. However, when the gifts are disturbing, then scary, it becomes clear that the new friend is someone other than it seemed. Someone who connects with Simon dark past, for which you will pay.